---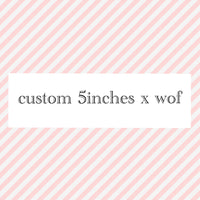 Please read all the information below. Not following any of these information can result to your order being canceled. 
- First and foremost, we will not fill an order for one piece of strip. We have to consider our shipping material costs so we cannot ship out one individual strip at a time. You will need to order 3 or more strips in total per order. 
-Please send us all your files via www.wetransfer.com to customercare.bbss@gmail.com with your name and order number as the title. We expect a file per strip. If you happen to want 2 strips from a single file, you will need to duplicate that file yourself and send us 2 copies of that file. 
-All strips are measured approximately 5inches x width of fabric. We will not cut your strips into individual strip. For example, if you order 3 5 inches strips, your order will come as 15inches x 58-60* with 3 strips. 
-All will be scaled for bows unless otherwise requested on a note at checkout. 
File recommendation is 100-700dpi
Please make your file is seamless. Brianna's Bow Supply Shoppe is not responsible for any issues such as misprint resulted from a wrong file submission.